Music isn't just pleasant to sing to, dance to or even listen to. It goes far beyond this as it not only has the power to influence our emotions but can also help us shape our own identity. Due to this, it unfortunately also has the ability to tear our identity down, too. The latter case often occurs in hip-hop, specifically when it comes to black women's identity.
It may be true that this music genre and cultural movement was originally created by Black and Latino Americans in the 1970s to highlight the socioeconomic and racial injustices that permeated American society at the time. However, the commercialisation of hip-hop has transformed it into something far-removed from its origins, given that its main focus is now misogynoir, a term coined by Kimberlé Crenshaw to describe the mixture of sexism (or misogyny) and racism directed at black women.
This gender and race bias can materialise in different ways which range from boxing black women in stereotypes such as the "Angry Black Woman," policing our body's or appearance or making derogatory comments about black women in the media such as Diane Abbott, the Williams sisters or last year's X-Factor contestant Gifty Louise.
In hip-hop, in both song lyrics and music videos, misogynoir shows up in the form of the objectification of black women and in exploitative images and messages about this group. These reinforce negative stereotypes about us that date back to slavery such as the "Jezebel" (the hypersexual black woman) and the "Sapphire" (an angry overbearing black woman who is loud and sassy).
Sadly, this also dehumanises black women and hence undermines our identity, which then affects our self-esteem and perception of ourselves.  For instance, it's difficult for us to have self-pride when presented with such negative images of ourselves in widely consumed media. Moreover, hip-hop also facilitates the internalisation of Eurocentric beauty standards, which leads some black women to resent or minimise their blackness.
Worse yet is that hip-hop seems to be the only avenue through which non-black people form opinions about the black community, which includes black women. Hence, black people overall become nothing more than the disparaging images and ideas shown in music videos and expressed in song lyrics. This especially affects black women because of the high prevalence of misogynoir in this music genre, and its effects are far-reaching due to the popularity of hip-hop today.
Nevertheless, one way to combat hip-hop's attack on black women's identity is for black women to construct their own idea of black womanhood and express this in hip-hop itself. This is because, on a personal level, Janet. E Helms argues that a healthy way for a black woman to establish her identity amidst all these negative images is to internally create her own idea of black womanhood. In fact, in the past, artists such as Lauryn Hill, Queen Latifah, Missy Elliott and bands like TLC used hip-hop to affirm black women's identity, as they challenged the negative portrayal of black women in this music genre. In addition, acts such as Salt-N-Pepa proudly expressed black female sexuality and autonomy.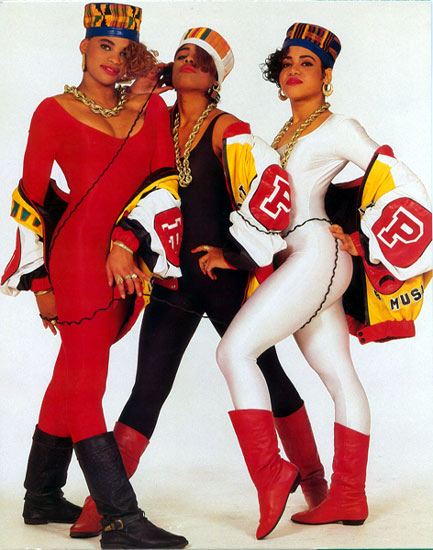 Therefore, hip-hop could be viewed as a double-edged sword when it comes to black women's identity: it can either slice us or gives us the means to empower ourselves and fight back. In other words, although hip-hop harms our perception of ourselves and confuses our identity it can also be used as a tool help create our own identity and break down demeaning stereotypes, thus presenting a more positive image of black women.
However, the only way to do this is, of course, is to have black women occupy more space in the hip-hop industry.  This could be in the form of being a rapper, songwriter, producer, or music video director.
We do currently have women such as Nicki Minaj in hip-hop. Even though she may not be perfect, she has in the past spoken about sexism in the hip-hop industry and also isn't afraid to call out this sexism. Furthermore, Minaj sampled Sir Mix-a-lot's "Baby Got Back", which many find misogynistic, in her hit song "Anaconda" and subverts its message to exercise her own black female sexuality.  There's also Sydney "Syd" Bennett, whose RnB/hip-hop/soul music and music videos often explore black female homosexuality and androgyny, amongst other things.
Ultimately, I see black women's presence (as well as the presence of other minority groups) in hip-hop as a way for this music genre to go back to its original roots of expressing black identity and focusing on black experiences. This, in turn, will help young black women to establish healthy and positive identities, which is something we greatly need to navigate through the infernal abyss of misogynoir that we're forced to confront.